​In the early 80s most kids where trying to convince their parents to use the limited 8-bit machines as a serious tool – only to end up playing the newest games. But in the 90s the young grown-ups have been updated to 16-bit. They developed software strategies and started to heavily use those limited bit-opportunities to express themselves artistically.
​
Composing on Soundchips wasn't an easy act. It demanded so much of a programmer's mind that the direct approach of an artist had to be failed instantly. Nevertheless 'The Sceners' where the ones who laid down paths for easy production methods with early Homecomputers, like C64, Atari ST and the Commodore Amiga. With so called Soundtrackers the use of three to four independent voices turned out to be as simple as point and click.
Breaking the limits and tracking the tunes
Before 'Soundtrackers' came out a chiptune-artist had to type his notes into an assembler editor, by hand, in hexadecimal letters. A soundtracker instead simply activates the computer keyboard and let the musician play, similar to a piano. However the tactile feedback wasn't the same, nor could the Trackers combine more than one key to reproduce a chordal.
Every musical production was then evaluated by coping with the limitation of this production process and the creative handling of the soundchip and the system.
Powered by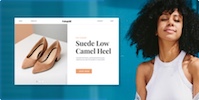 Create your own unique website with customizable templates.